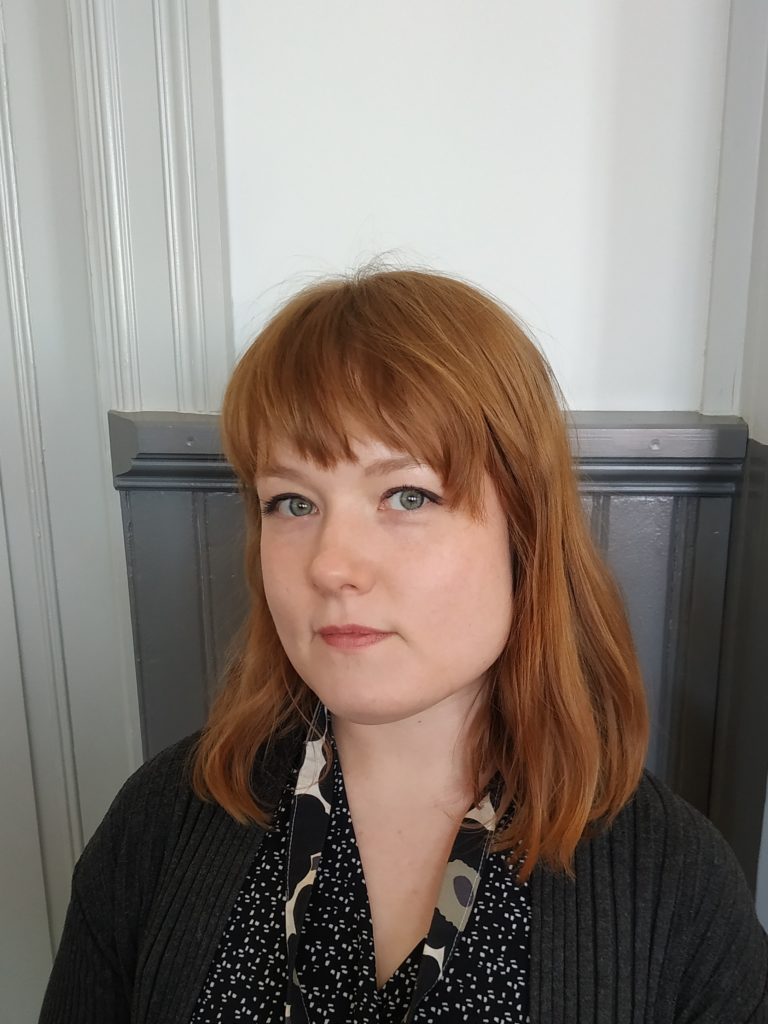 mervi.deheer [at] moderna.uu.se

Interests

language contacts, phylogenetic linguistics, historical linguistics and lexicology
Introduction
Location: Szeged, Hungary

During my undergraduate years, I studied Finno-Ugric linguistics which introduced me to various Uralic languages, their structure, and developments. I have also been lucky to travel the Finno-Ugric world making friends and learning not only languages but also something about the cultures of their speakers. As a student, I mainly worked as a Finnish language teacher but in 2015 I began compiling information for Bedlan's datasets. After graduating with my masters, I had been introduced to the world of large datasets, phylogenetic linguistics and quantitative methods in general. Currently, I'm a PhD student at Uppsala University, Finno-Ugric languages which is part of the Department of Modern Languages. During 2021-2022 I teached at the beautiful Rauma campus (Faculty of Education, University of Turku). From 2022 onwards I'm working as a visiting lecturer of Finnish language and literature in Szeged (Faculty of Arts, University of Szeged, Hungary.

In my project, we bring the theme of language contact to the phylogenetic context and use this information to study the timing hypotheses given to the Uralic language family.

I'm a linguist working in a highly interdisciplinary team. My background in teaching has helped me to explain linguistic concepts to other members and collaborators. In return, I have had the opportunity to dip my toes into the pool of other sciences such as genetics, archaeology and geography.

When not working on papers, I enjoy computer games, writing stories and taking long walks.
Talks
2022
The borrowing profile mediated by the basic vocabularies of Uralic languages. Congressus XIII Internationalis Fenno-Ugristarum. 24.8.2022. University of Vienna. Vienna, Austria
Kielikontaktien vaikutus kielikunnan sanaston kehitykseen: uralilaisen perussanaston näkökulma. Kielitieteen päivät 14.5.2022. University of Turku. Turku, Finland
2021
Loanwords in basic vocabulary mediate the borrowing profile of a language. Cultural Evolution Society Conference. 10.6.2021. Sapporo, Japan.
2019
Using contact linguistics for relative calibration of phylogenies. ​International Conference on Historical Linguistics (ICHL 24) 2.7.2019 The Australian National University, Canberra. Australia. With Luke Maurits​​ Michael Dunn​​ and Outi Vesakoski.

Dispersion of Uralic languages.Early perspectives from phylogeographic modelling. With Luke Maurits and Timo Rantanen. Spatial Patterns of Language Evolution 23.1.2019. University of Zürich, Switzerland.

2018
Loanword strata in the Uralic languages, new timing tests and multidisciplinary collaboration. Meeting of Nordic Finnish teachers. 15.-16.2.2018. Copenhagen, Denmark.

What does a basic vocabulary dataset tell about language contacts between the Uralic and Indo-European language families? Workshop on language contact 1.6.2018, Uppsala Universitet.

2017
Language contacts of the Uralic languages and borrowed items in a basic vocabulary dataset. Conference LAG2 Linguistics, Archaeology, Genetics: The Origin and expansions of Uralic-speaking populations, 29.-31.11.2017, Jena, Germany.

Grambank methodology for collecting worldwide typological data. Workshop on Databases of the Uralic Languages, 9.-10.11.2017, Tartu Estonia. With Michael Dunn

Optimizing phylogenetic analyses with data partitioning: a case study of Uralic – Data coding. Phylogenetic Methods in Historical Linguistics, 27.-30.03.2017, Tübingen, Germany. With Outi Vesakoski and Terhi Honkola

2016
BEDLAN: Language data revealing human (pre)history. Archeogenetics in the archipelago workshop 1-5.8.2016, Seili, Finland. With Michael Rießler, Outi Vesakoski, Terhi Honkola & Jenni Leppänen.

The research on the divergence of the Uralic languages by the BEDLAN multidisciplinary research group. X International Symposium "Language contacts of peoples of the Volga region: actual problems of normative and historical phonetics, lexicology and stylistics. 19.5.2016 Izhevsk, Udmurtia, Russia.
Publications
2018 Syrjänen, Kaj, Jyri Lehtinen, Outi Vesakoski, Mervi de Heer, Toni Suutari, Michael Dunn, Urho Määttä, and Unni-Päivä Leino. 2018. Lexibank/UraLex: UraLex Basic Vocabulary Dataset. (Version v1.0) [Data set]. Zenodo. http://doi.org/10.5281/zenodo.1459402

2019 Maurits, Luke. de Heer, Mervi, Honkola, Terhi, Dunn, Michael, Vesakoski, Outi. 2019. Best practices in justifying calibrations for dating language families, Journal of Language Evolution, lzz009, https://doi.org/10.1093/jole/lzz009

2021                 De Heer, Mervi, Mikko Heikkilä, Kaj Syrjänen, Jyri Lehtinen, Outi Vesakoski, Toni Suutari, Michael Dunn, Urho Määttä & Unni-Päivä Leino. 2021. Uralic basic vocabulary with cognate and loanword information (Version v2.0) [Data set]. Zenodo. http://doi.org/10.5281/zenodo.4777568
Educational short papers
2022                
Mervi de Heer & Juli-Anna Aerila
Fyysinen oppimisympäristö monipuolisen pedagogiikan mahdollistajana. Kielikukko, FinRa.
Mervi de Heer, Antti Aaltonen, Juli-Anna Aerila & Merja Kauppinen. Iltasatukirjahylly lisäsi lasten lukuintoa Helsingissä.
Kielikukko, FinRa.
Education
2017- PhD student, Uppsala University, Department of Modern Languages, Sweden.

Supervisors: Prof. Rogier Blokland (Uppsala University), Prof. Michael Dunn (Uppsala University), PhD Outi Vesakoski (University of Turku).

2016 MA in Finno-Ugric languages (minors: Hungarian language and culture, Subject teacher training for Finnish language and literature), University of Turku, Finland. Thesis

2011 BA in Finno-Ugric languages (minors: Finnish literature, Educational science), University of Turku, Finland
What have I been teaching in recent years?
Courses
Finnish A1, Uppsala University (2017, 2018, 2020)
Language, Individual and Society, Uppsala University (2017, 2018)
Language Contacts, Uppsala University (2018, 2019)
Äidinkieli ja kirjallisuus. Osa 1. Kielitaitoiseksi kasvaminen, UTU (2021)
Äidinkieli ja kirjallisuus Osa 2. Lukijaksi kasvaminen, UTU (2022)
Didaktinen harjoittelu alakoulussa, UTU (2022)
Lectures
Linguistic diversity, endangered languages and language revitalization. Biodiversity. University of Turku. 16.1.2019

Language contacts. Evolutionary applications: Human and cultural evolution in a multidisciplinary context. University of Turku 18.12.2019
Technical skills I use at work
R (Tidyverse)
LaTeX
Python 3.X (basics)
Follow me on Twitter: https://twitter.com/MervideHeer